Kanban University Curricula Mapped to Organizational Maturity
This is an addendum to my 4 part blog series on Kanban Patterns and Organizational Maturity. Lean Kanban training classes and curricula are designed to cover all levels of maturity and to enable clients to improve significantly. This post looks at which class is intended to give you what and how you might map it to your organizational maturity level to establish appropriateness of training for your organization.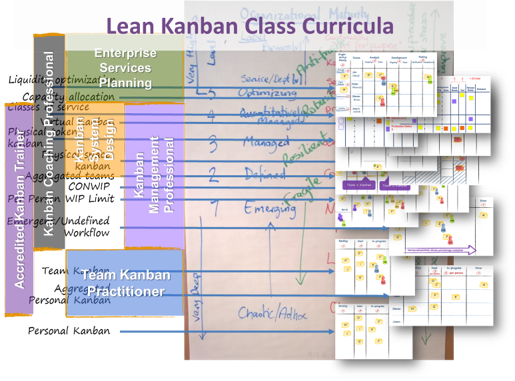 Figure 1. Lean Kanban Class Curricula mapping to Oranizational Maturity Levels
Team Kanban Practictioner
Team Kanban Practitioner is designed for low maturity organizations looking to bring some relief from over-burdening to teams of up to 12 people and improve quality, localized collaboration and staff morale as a consequence. It is most suitable for organizations where there isn't a strong sense of service-orientation or a strong focus on the customer. There is a lack of unity of purpose and alignment. Teams are looking to optimize their performance locally. Team Kanban Practitioner will help you get started and raise awareness of what might be possible beyond the team level. This is a 1-day class. Those completing this class earn the Team Kanban Practitioner (TKP) credential.
Kanban System Design (KMP I)
Kanban system design is the class formerly known as "Getting started with Kanban" (Foundations I). This class is intended to teach organizations how to create service delivery workflow kanban systems (and boards). It has an overt focus on the customer, assumes a service oriented, workflow can be defined, modeled and visualized. There is an inherent assumption of organizational maturity level 2 for the KMP I class. The class is suitable for organizations at maturity level 2 and above. This is a 2-day class. The 2nd day is dedicated to the STATIK (systems thinking approach to implementing kanban) exercises. These emersion exercises teach participants how to design a kanban system from first principles. They leave the class with an actionable kanban system design ready for installation.
Kanban Management Professional (KMP II)
The Kanban Management Professional class introduces the full concepts of the Kanban Method. Managers completing the KMP I & II courses are expected to know how to create evolutionary change in their organization. The KMP II class introduces proto-kanban, the Kanban cadences (the reflection & feedback mechanisms) and models for understanding and implementing process improvements. Together the KMP I & II classes cover the scope of the book, Kanban: Successful Evolutionary Change for your Technology Organization. This is a 2-day class. Apart from some brief revision there is very little overlap with the KMP I class.
Managers who have completed the KMP I & II classes earn the Kanban Management Prrofessional (KMP) credential. KMPs should be capable of leading an organization to maturity level 4 providing they don't run into too much resistance. So the KMP II class is suitable for organizations at all levels of organizational maturity. To learn how to overcome resistance they need to take the Kanban Coaching Professional (KCP) Masterclass.
Alternative Path to Agility
TKP + KMP I & II are together known as "the alternative path to agility" and are offered in combination as a 5-day class.
Accredited Kanban Traininer (AKT)
The Accredited Kanban Trainer (AKT) class is a 5-day class intended to teach trainers how to deliver the "alternative path to agility" classes. This class mostly involves trainers auditioning with expert critique from established trainers. The purpose is to give trainers confidence that they know the training material thorough and can teach it to a consistent level. The class also features sections of "off curriculum" questions answered by David J. Anderson or another senior leader in the community. The intent is to give trainers insight into likely and popular questions that come up in class and how to answer them in a consistent fashion.
Enterprise Services Planning (ESP I, II & III)
Enterprise services planning is actually 5 days of training packaged into 3 classes. ESP I: Enterprise Services is a 1-day class designed to teach the principles of service-orientation. This class has an almost 100% overlap with 1-day of the KMP II class. Existing KMPs who are current with their knowledge can skip this class.
ESP II: Project & Capacity Planning is focused on planning projects where kanban systems are used as part of the delivery model. The assumption is that the project is large enough to involve a network of small teams and multiple workflows and hence multiple kanban systems, though it is possible that all the work of the project is visualized on a single board. The focus of this class is on advanced metrics, probabilistic forecasting and the mathematics required to create reliable project plans. ESP II is also a 1-day class.
ESP II assumes an organization aspires to at least maturity level 3 within the scope of that project if not the wider orrganization.
ESP III: Portfolio Management is packaged as a 3-day class but can be delivered in different configurations for Product Management, Strategic Planning, and as a senior leader overview. This class is focused on business unit scale portfolio management and is intended to provide the concepts to take a maturity level 3 organization to maturity level 5 at a scale of up to a few thousand people. Elements of the ESP III curriculum are suitable for senior leaders, strategic planners, portfolio planners, product managers, general managers, as well as lower level operational and delivery managers.
Kanban Coaching Professional (KCP)
The Kanban Coaching Professional masterclass is a 5-day class designed to train coaches, consultants and corporate change agents how to anticipate resistance and to motivate change and overcome resistance enabling improvements in service delivery, organizational maturity and fitness for purpose. There is a 1-day overlap with the ESP III class – both classes share the risk assessment method. In the KCP class the emphasis is on using risk assessment as a common language for collaboration and decision making – part of bringing the organization to a comfort level with WIP limits, deferred commitments, and understanding how to select, sequence and schedule work. The rest of the curriculum is dedicated to understanding resistance to change, learning how to anticipate it, knowing how to motivate it, knowing how to select the stressors and the feedback mechanisms to move the organization forward and deepen the Kanban implementation.
People completing the KCP 5-day class followed by completing 6 months or more of field experience, writing an essay and completing a panel interview of peers are awarded the Kanban Coaching Professional (KCP) credential. KCPs are capable of taking you from maturity level 1 to level 5. They are capable of assessing your current situation and helping you implement a kanban system or board that is tuned to your organization. They can help you install an evolutionary capability in your organization and coach you to deeper and deeper levels of Kanban, with ever greater organizational maturity and the economic benefits that it generates.
Summary
It has taken 7 years to develop the Lean Kanban curricula to provide adequate coverage of the Kanban Method and make it adaptable and relevant to a wide market of organizations at all levels of maturity and from small scale startups to businesses with hundreds of thousands of employees and business units that have tens of thousands of workers. Kanban and Enterprise Services Planning have the depth and breadth to take your enterprise-wide professional service delivery to the highest levels. We've developed the training, the trainers, the train-the-trainer program, and the coaches and the train-the-coach program to insure it works with consistency and reliability. Organizational Maturity assessment helps us and our network of AKTs and KCPs to help you, with greater consistency, to deliver Kanban implementations that relieve over-burdening, improve quality, improve consistency, predictability and speed of service delivery, improve risk management, improve economic performance and ultimately give your business the organizational DNA to evolve in an uncertain market.