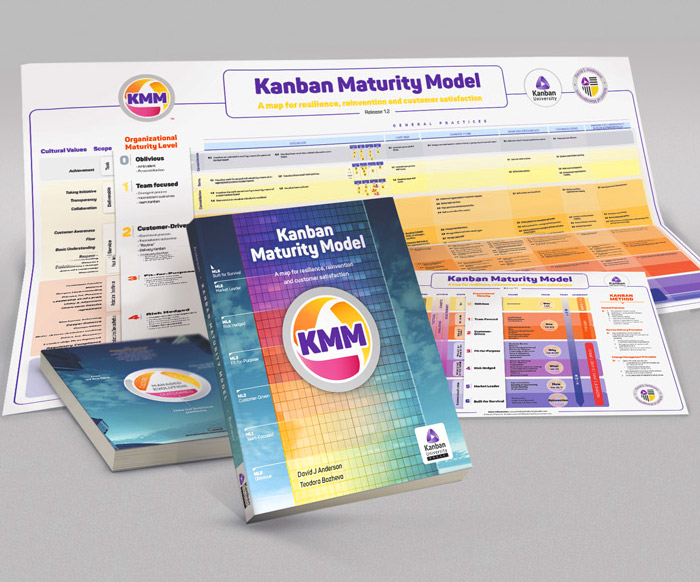 The Kanban Maturity Model provides pragmatic, actionable, evidence-based guidance and shows how to achieve true enterprise agility. 
It shows how to successfully deploy the Kanban Method to greatly improve the economic performance of your business. 
The Kanban Maturity Model also provides coaches and transformation managers with a proven playbook and a roadmap to transform your entire enterprise through evolutionary change. 
The 2nd edition of the Kanban Maturity Model classifies 150 practices across 7 levels of organizational maturity. 
Taken from the preface of the 2nd edition of the Kanban Maturity Model book, available on pre-release 
Purpose, Influences, Intent, and Benefits of the Kanban Maturity Model
The Kanban Maturity Model (KMM) emerged from the need to democratize adoption of the Kanban Method so that others may reap the benefits that using it has brought to companies large and small around the world over the past decade.
We have codified patterns of successful adoption in a manner that enables consultants, coaches, and managers to employ the methods used by others with a high probability of success. The model classifies more than 150 practices into seven levels of organizational maturity and provides clear guidance on how to catalyze and lead improvement using the Kanban Method.
The model for evolving organizatinoal maturity emerges as the result of more than fourteen years of experience training and coaching in various organizations, all the while capturing data, writing and publishing case studies, and collecting experience reports given at more than fifty worldwide conferences between 2009 and 2019. The Kanban Maturity Model provides pragmatic, actionable, evidence-based guidance and shows how to achieve true enterprise agility. It shows how to successfully deploy the Kanban Method to greatly improve the economic performance of your business. It provides a playbook and a roadmap to transform your enterprise. We believe that you will find the KMM immediately useful and extremely powerful.
Purpose
The purpose of the Kanban Maturity Model is to support the development of the following organizational capabilities:
• Relief from overburdening
• Workforce cohesion and employee fulfillment
• Meeting customer expectations
• Delivering satisfaction to customers
• Defining and managing organizational identity and purpose
• Resilience to setbacks and market turbulence
• Predictable, sustainable economic performance and financial robustness
• Organizational agility
• Congruence of decision making from top to bottom
• Long-term survival
• Meaningful, institutionalized change that sticks
We developed the Kanban Maturity Model because reaching these outcomes is observed to be challenging for many organizations. The model responds to the need for help coping with resistance to change and properly introducing the practices needed to make an entire organization resilient, robust, and ultimately, adaptable to stresses from changing external technological, business, economic, and governmental environments.
Our goal has been to deliver a method that produces meaningful change that institutionalizes and sticks around even as personnel and managers change over time. We believe that new ways of working stick when they are truly internalized by individuals as part of who they are as people and as part of the wider social groups in the organization—their team, their service delivery unit, their business unit, and so forth. We believe that we have developed and codified an approach that makes this repeatable, using the KMM as a playbook.
With more than fourteen years of Kanban implementation experience around the world and a year of validating the KMM beta release, it is now possible to categorize why resistance happens and to provide pragmatic guidance on actions that can help build unity around common goals, improve business outcomes, and strengthen cultural values, including appropriateness of specific practices in the context of existing organizational maturity. The model contains this codification and defines proven steps for correct practice implementation. In addition, it draws a roadmap to broader and deeper adoption over time. In particular, it clearly specifies which practices can be introduced next with little resistance, or which, by design, produce just enough stress to cause the organization to react in an antifragile manner, resulting in improvement.
Two Failure Modes with the Kanban Method
With more than a decade of observations and experience from around the world and across a broad spectrum of industries, two patterns of failure, or failure modes, have emerged with the implementation of the Kanban Method: the false summit plateau and overreaching. A predecessor to the KMM was known as the Depth of Kanban Assessment Framework.
Its purpose was to assess the appropriateness of Kanban practice adoption mapped to organizational readiness. There was a general recognition that each of the six General Practices of the Kanban Method could be implemented with differing degrees of fidelity. When failures of adoption occurred, these were generally because inappropriate practices had been chosen—either too simplistic, failing to push the organization to a higher level of performance, or too challenging, resulting in failure to adopt.
The coaching or consulting skill required was that of a sports coach: knowing the playbook of practices and being able to map them to the existing skill level and capability. The goal was to stress the organization just enough to provoke it to a higher level of performance but not stretch it so much as to break it, causing a regression to a lower level of performance. The KMM provides a considerable advance over its predecessor—it provides extensive guidance on appropriate practice adoption, but it goes much further in terms of understanding organizational readiness with a much more thorough map of organizational culture and observable outcomes.
False Summit Plateau
The false summit plateau comes from the arrogance of believing that since an organization has adopted Kanban already, they've already experienced all of its benefits. Typically, we hear a reaction of, "We've done Kanban! It helped us […]." Usually from a shop-floor, bottom-up initiative, they list some or all of these practices and benefits that map to Maturity Level 1:
• Relief from overburdening and stressful, abusive environment
• Improved transparency
• Improved collaboration
• "Gave us what we needed."
In part, the Kanban Maturity Model exists to show that these shallow adoptions have left a lot of additional benefits on the table, and that they can take Kanban a lot further.
Overreaching
Overreaching usually results in aborted adoption. The problem is rooted in an overly ambitious transition plan, often to a design intended to achieve Maturity Level 4 or even 5 in an organization currently at Maturity Level 0 or 1. The problem often manifests because of "the smartest guy in the room." This person is a consultant or a coach who feels psychological or sociological pressure to show off their knowledge and expertise or is simply too optimistic and overly ambitious.
When the practices are too advanced for novices or organizations with immature culture, existing behaviors, or supporting practices, the result is that the new practices simply don't stick. Often, the people are incapable of understanding the benefit. For example, if every work item is a task, what would be the point of risk hedging using capacity allocation of WIP limits across work items of different types? In a world where everything is homogeneous, the concept of hedging risk is incomprehensible.
The Kanban Maturity Model also exists, in part, to provide a roadmap and a means to interpret and appraise organizational maturity and readiness for any specific Kanban practice. A competent coach can use the model as a guide to suggest the right next steps and avoid overreaching.
Avoiding Structural Tension
There is a concept in psychology known as structural tension. It exists for an individual when they cannot see how to get from where they are now to a future destination. For example, imagine a young girl watching champion gymnasts on television as they compete in the Olympic Games. She likes gymnastics; in fact, she attends a gymnastics club twice a week. However, as she watches the champions on television, their skills seem like magic to her. Their level of achievement and performance is incomprehensible to her.
If this young girl were to receive a directive from, say, an overly ambitious parent who demands that she raise her performance to the level of the Olympians, she will suffer structural tension—the stress and anxiety that comes from not knowing how to get from where she is now to where she needs to be in future.
Structural tension represents the opposite of overreaching. In this case, rather than overly ambitious overreaching, there is resistance, inertia, even fear at attempting to progress further. Structural tension is overcome in sports coaching through the use of an extensive playbook, a developmental guide to evolve athletes from novices to experts. The Kanban Maturity Model is that playbook for organizational maturity and business resilience, and it is achieved by implementing the Kanban Method. Kanban Coaching Professionals become "sports coaches" for your organization. The Kanban Maturity Model is their playbook. The Kanban Maturity Model removes structural tension. If an executive sponsor describes a business outcome that matches closely to Maturity Level 4, the KMM provides a map to take your organization from where it is now to those desired Maturity Level 4 outcomes.
Influences and Integrations
The Kanban Maturity Model is influenced by several management models that have preceded it. The KMM introduces a number of innovations, most notably a focus on business outcomes: fitness-for-purpose in the eyes of the customer and other stakeholders. The model describes management practices and actionable guidance that develop an organization's capability to continually satisfy customer expectations in a sustainable manner as well as anticipating market changes and taking advantage of the opportunities these present.
The model also provides a proven map between cultural values and management practices; together, they enable the achievement of business outcomes as well as develop the capabilities of an organization to adapt to changing customer expectations and to successfully overcome turbulence or crisis situations.
In addition, the model provides a number of mappings and integration points with existing models such as the Toyota Production System (TPS), the Capability Maturity Model Integration (CMMI™), the Real World Risk Institute model, and Mission Command/Auftragstaktik. Its seven maturity levels have been influenced by concepts from Jerry Weinberg and the CMMI and the many similar models that preceded it in other fields and other industries.
Intended Users and Needs Addressed
Kanban coaches, (Kanban Coaching Professionals, Accredited Kanban Consultants)
• Understand maturity level behaviors.
• Get useful guidelines for leading their customers' initiatives.
• Appraise the depth and breadth of a Kanban implementation.
• Determine the appropriateness of certain practices.
• Define an approach for taking an organization to the next level; in particular, defining what to do next and how to stress the organization enough to provoke it to go to the next level.
• Explain to organizations what they can get from the KMM, what happens when they are under stress, and from that, determine what the appropriate maturity level for the organization is.
• Enhance professional credibility—avoid appearing overly ambitious or lacking sufficient ambition.
Improvement Initiative Leaders and Executives
• Develop a realistic roadmap for driving the initiative aligned with the organization's business objectives.
• Clearly communicate the improvement initiative's objectives, defined roadmap, concrete actions, and expected benefits to other managers and staff.
• Develop an organizational culture and management practices that enable achieving better business outcomes while avoiding resistance and evolving steadily.
• Understand and measure the progress of the improvement initiative.
• Lead initiatives with confidence.
The Kanban Maturity Model for Agile Practitioners and Coaches
• Understand how Kanban practices can help to satisfy customers' expectations.
• Define a roadmap to develop further the organization's agility.
• Educate customers so they understand that Kanban is a lot more than a visual board; communicate the breadth and depth of Kanban and the benefits of using the method.
• Meet all the needs defined above.
Program and Service Managers
• Introduce appropriate practices that provide insight on and reveal information about the real state of their projects and services and enable better coordination of their teams' work.
• Improve service predictability.
• Apply effective practices that facilitate meeting customer expectations.
• Effectively manage shared resources.
• Effectively manage capacity to respond to changing service demand.
Benefits of the Kanban Maturity Model
• Helps managers and teams understand the system they manage and avoid making poor decisions that lead to negative effects on projects, services, workers, customers, and the business
• Describes the characteristics of an organizational culture that facilitates understanding real-world situations and defining an appropriate approach to improving them effectively
• Describes a set of practices for use at enterprise scale; avoids focusing on compliance to a framework; does not define processes or a methodology
• Guides organizations toward fit-for-purpose products and services with appropriate exposure to risk and reasonable economic returns
• Allows objective assessment of the current state of an organization to see where challenges and opportunities lie on the path to greater business and organizational agility
• Provides guidelines on the improvement actions to take, creating just enough stress to catalyze improvement without overreaching and risking failure of adoption
• Helps benchmark organizational agility and fitness-for-purpose
• Improves positioning in the market by appropriately developing capabilities to satisfy and exceed customer expectations
• Aligns stakeholders and team members around a common understanding of the purpose of an improvement initiative and how to approach it
• Complements other models and methods, such as CMMI and PMBoK [14], with a systems thinking approach that incorporates an understanding of the psychology and sociology of the workforce.