Kanban Evergreen: If There Is Urgency in Turning Things Around, Would The Kanban Method Still Be Appropriate?
The Kanban Method pursues evolutionary change.
The reason to pursue evolutionary change is that it avoids the psychological crisis that ensues from dramatic social change. Consequently, changes are more likely to institutionalize.
Evolutionary change is the humane approach to change.
Kanban avoids invoking crisis in workers. It avoids the need for coaches as therapists. It creates the natural internal pull for change that sticks.
Things get worse before they get better
This truth is illustrated by the J-curve diagram: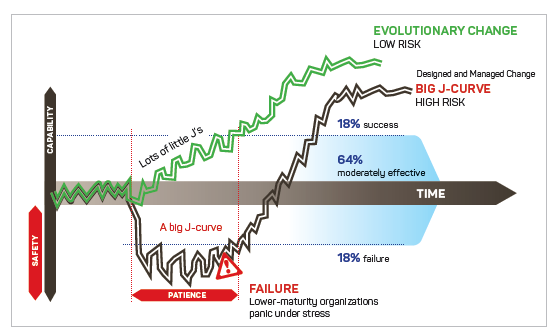 The bigger the change is, the more time is required to see the effects of the change but also it needs more patience. The patterns that we observed are:
Low-maturity organizations tend to drop the change initiative whilst it is still in the depth of the J-curve.
Low-maturity organizations tend to have very low-maturity leaders with low tolerance thresholds.
Low-maturity organizations are not capable of managing big transition initiatives with deep J-curves.
For low-maturity organizations, an evolutionary, incremental approach involving lots of little J-curves is much more likely to succeed.
"But I am in a rush!"
There can be a belief that we are in a hurry and that evolution takes too long. Hence, we need to do something revolutionary and act quickly, with urgency and proceed with actions that might seem quite brutal, but should (at least theoretically) bring quick results. The truth is quite the opposite.
At one Lean Kanban North America conference in 2017, Karen Palmer from TriTech presented the application of the CMMI and CMMI initiatives mixed with some Kanban practices. As the evidence showed, pursuing evolutionary change helped them to get results faster, which seems counterintuitive, but it is not!
Doing a small thing, and another small thing, and so on will help you get good answers faster than when you are trying to do something big and revolutionary. Your feedback loop is shorter and provides you with valuable information which you can start using to improve your change initiative even further – and most of all quicker.
You go with transformations and huge changes because you are in hurry, and you need to go fast.
But what's not considered is organization resistance and the impact – the J-curve effect of "things get worse before they get better."
That means that even when those big change initiatives were successful, they still took longer to get to an acceptable outcome.
However, the main problem with this approach remains – it is counterintuitive to do the small things when you think you are in hurry.
If you want to learn how to overcome this issue and put your organization on the evolutionary path which will bring you great results faster, join our Kanban Coaching Professional classes!