Kanban Board Examples
One of the most recognizable features of the Kanban Method is the Kanban board. These boards allow you to have a visual representation of your work. They help with transparency and create a new understanding of workflow. While Kanban boards are not everything there is to Kanban, (in fact, the first recorded Kanban case study did not even use a Kanban board!) they do help optimize coordination and communication. Every Kanban board is unique and boards should always be evolving. However, these Kanban board examples might help give you inspiration for design techniques you can use.
Individual Kanban Boards
An individual kanban board enables individuals to place limits on their current work and provides a way to get relief from too much work-in-progress. This results in happier individuals who take pride in their work and focus on finishing, with high quality, tasks that they have started. Individual boards might be used in remote working or hybrid working organizations. They can be tuned to the maturity of the organization.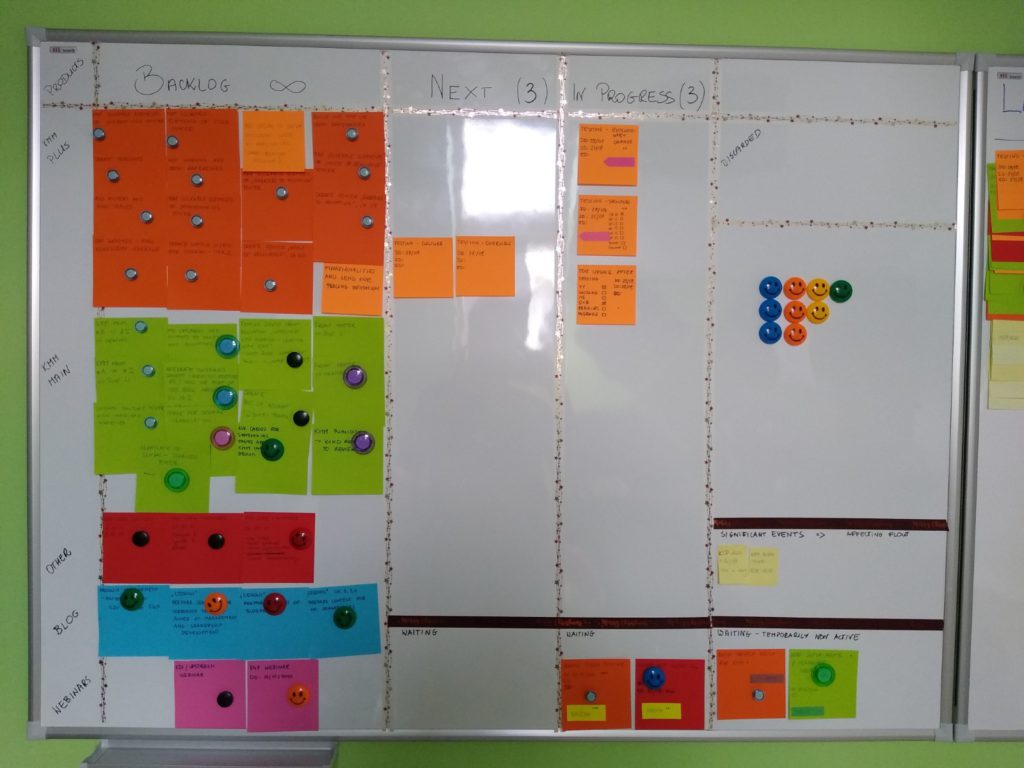 This example of an individual board comes from our colleague Anna Radzikowska. When requested to work on an item, she adds a new ticket to her backlog. Next, she organizes work in next, in progress, and done columns. However, she uses different colors to represent different work item types. In addition, she signals which items are waiting. The items in waiting are worked on in more detail on a different Kanban board within the team. On her individual board, she also uses other visualization tools such as an area for discarded work and one space for significant events. To the right of her board, she collects lead time. This gives her important data to feed back to the team so we know how long certain work item types will take her. To learn more about individual Kanban, check out our Individual Kanban for the Enterprise course.
Kanban Boards with Avatars

One visualization technique used frequently is the use of avatars. These pictures or icons show who is currently working on a certain work item. You can create avatars using certain markers with colors or shapes, or you can get really creative and use employee photos, magnets, or pictures of characters.
Business Analysis and Delivery in Different Workflows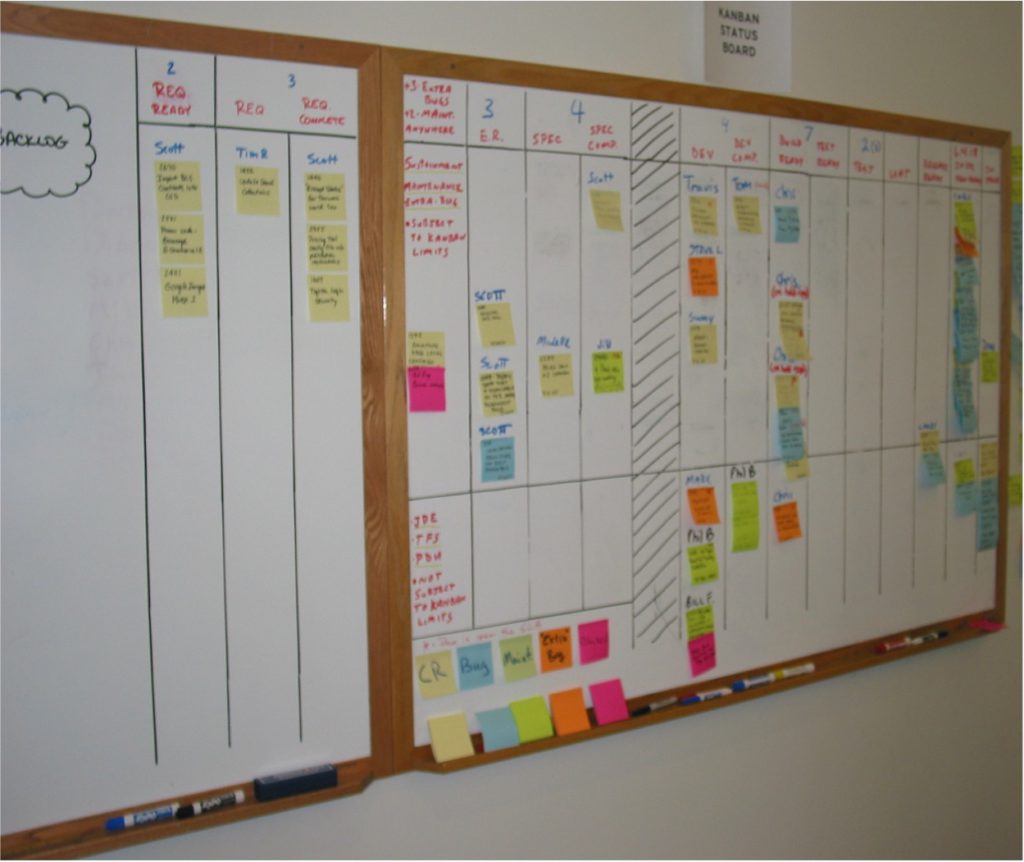 In this example, we see one board that shows combines two boards and two parts of the system. The wooden part shows the commitment point. On the left, you can see the upstream system. The upstream system for them was a shared activity. On the right, you see the downstream system. The downstream visualizes two different services.
Major Project with Two-Tiered Kanban Board
Using Swim Lanes for Feature Sets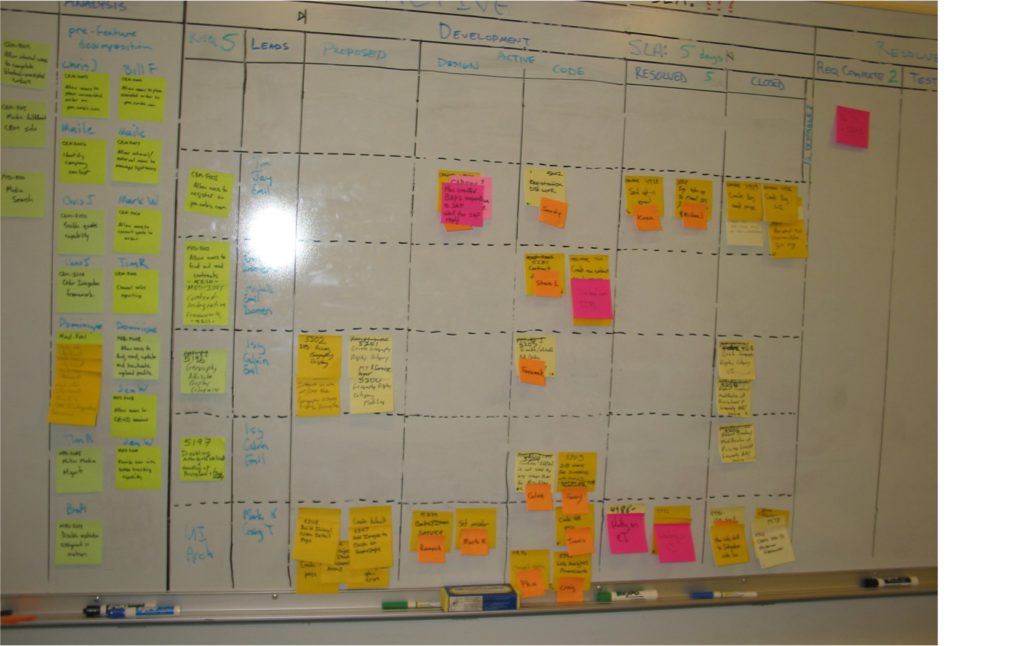 On this board, you see 5 different swim lanes representing development teams. In other words, each different row represents a different team. In this example, the team was global. The results column (testing) was a shared service in India. A team in the United States completed everything to the left of this column. They included the shared service on their board to be able to visualize the work. However, we can assume the Indian team had their own board to visualize this service.
Using Slots for Signaling- Sales Funnel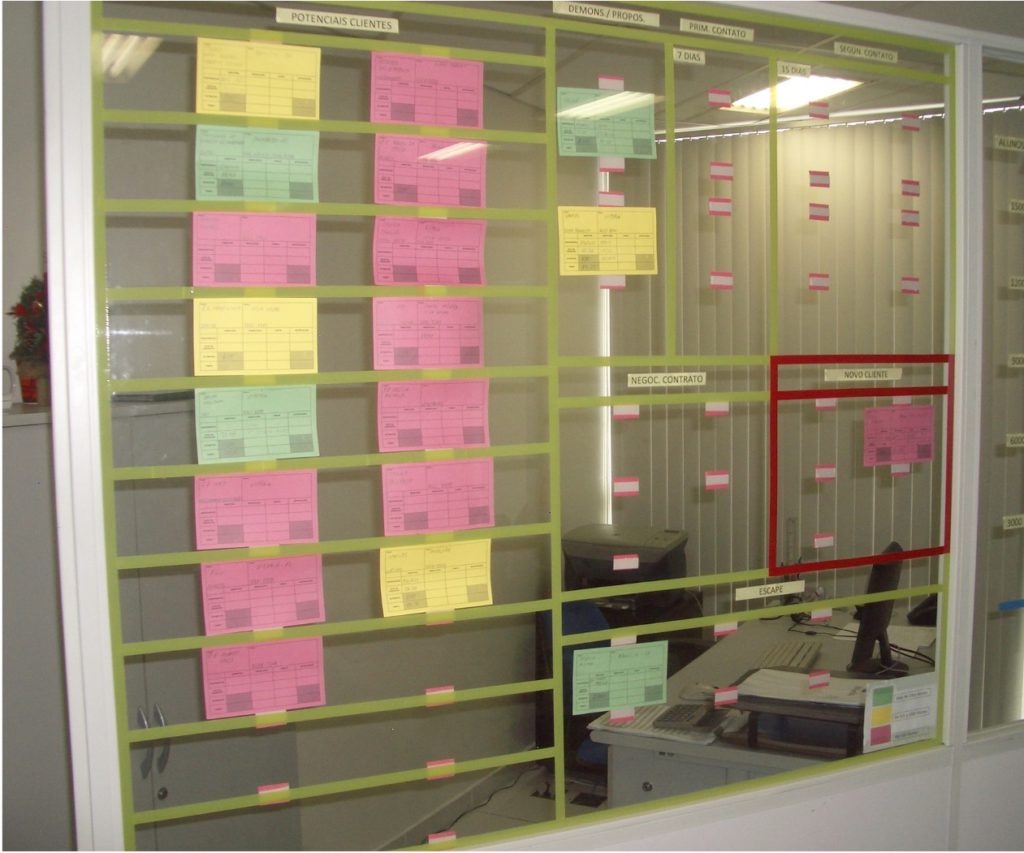 In this example, they did not use limits per column but used empty slots to signal capacity. They also use other spaces on the board visualization such as a space to put recent losses for retrospection.
Portfolio Kanban Board Example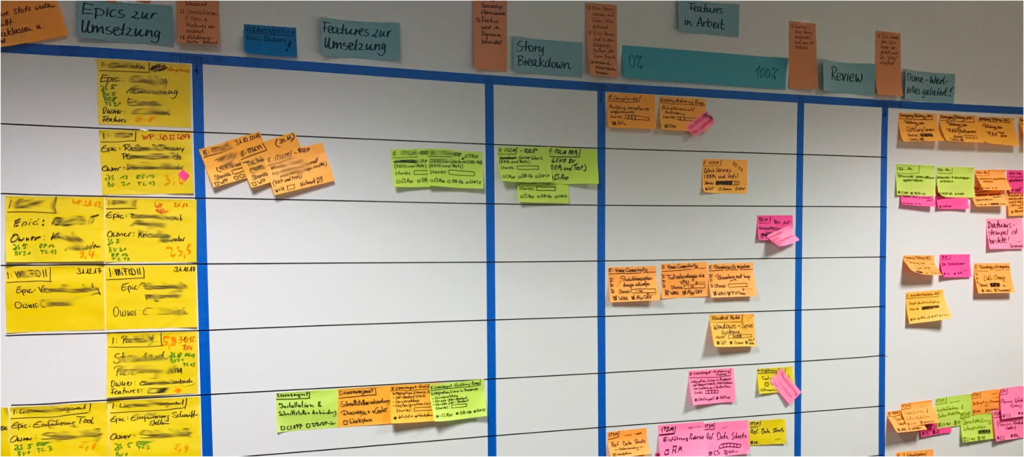 Kanban boards can also go beyond the team level. This higher-level Kanban board example is the board of a portfolio manager. It aggregates several smaller boards for specific projects. This is not a service board. This board visualizes what is happening on the lower-level boards. To learn more about portfolio boards, check out the Complete Guide to Project, Program, and Portfolio Management with Kanban.
David J Anderson School of Management Board
Finally, it wouldn't be fair to not include our own board in the Kanban board examples. We display our team board in the main hallway of the office. We use different color tickets to represent different work item types. Certain colors represent classes of service. The ticket design includes the source of demand and who is working on the item. Dots are used to collect lead time. Every day that an item is worked on, a dot is added. Additionally, swim lanes have been added to visualize events and courses in progress.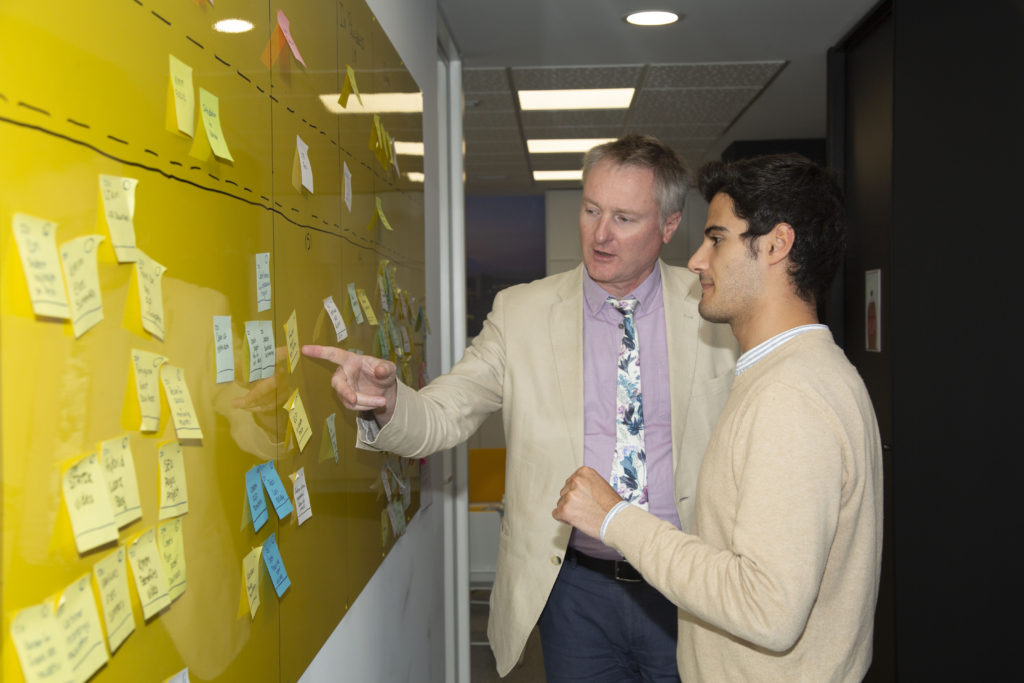 In conclusion, Kanban boards are a tool that allow for better visualization and understading of workflow. Kanban boards are unique to every system and should be designed to best fit the needs of the organization. Therefore, it is never a good idea to directly copy a Kanban board. However, these Kanban board examples serve as inspiration for design techniques.
To learn more about the Kanban Method, joing us for one of our upcoming training classes. For any questions about our materials or courses feel free to contact us.