Course Demo
Kanban Maturity Model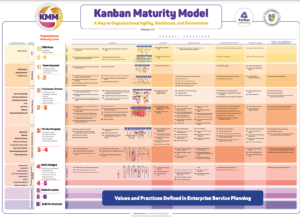 The Course: Kanban Maturity Model
With this course, learn how the Kanban Maturity Model can help you to determine and understand the maturity level of your organization so that you can take actionable steps to appropriately implement the Kanban practices that will help take the organization to higher maturity. 
Be able to determine the maturity level of an organization in terms of observable behaviors, management practices and business outcomes
Define the right approach to lead the organization to the next level
Determine and appropriately implement the Kanban practices that will help the organization deliver better on customer expectations and internal objectives
Who Should Attend?
Kanban coaches, Agile practitioners, transformation initiative leaders, business managers, project and service managers and team leaders who wish to obtain deeper knowledge on how to develop further their organizational agility.
Benefits
Discover the proven improvement roadmap that will help you understand where you are today and provide actionable guidance of next steps to improve your delivery capabilities.
Download the course brochure to learn more, or check out the sample lesson "Barriers to ML3" by registering for our free demo! 
Register For a Free Course Demo
Lesson: Barriers to Maturity Level 3