Take a Sneak Peek into the KMM course
Enjoy a free demo lesson from our online Kanban Maturity Model course with David Anderson 
Take a look into blended-learning online classes with this free demo of a lesson from the Kanban Maturity Model course. View the 4 steps students take to complete their online learning experience. Learn more about barriers to maturity level 3 with this free lesson! Included in the demo is a course video and course slides by David Anderson.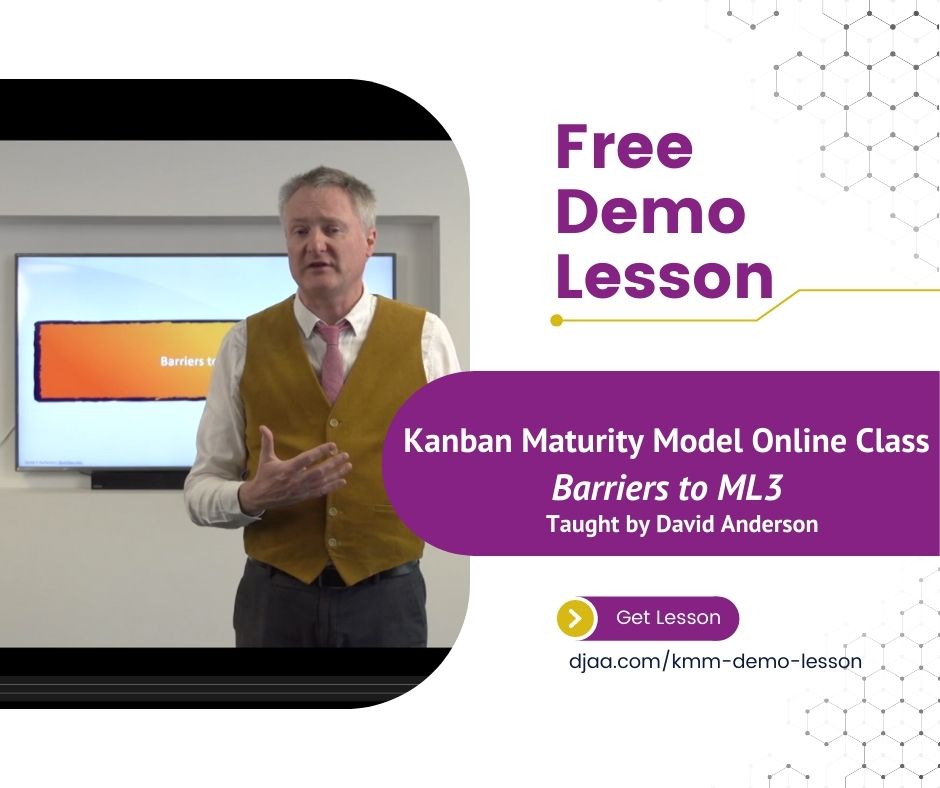 The Kanban Maturity Model codifies more than 10 years of experience implementing Kanban across diverse industries in businesses of all sizes. It plays an important role in creating unity, alignment, a sense of purpose, and good governance. Use it to gain a better sense of achievement, delight your customers, and realize superior business results.
The Kanban Maturity Model maps typical Kanban practices as well as cultural values against 7 organizational maturity levels. This becomes a powerful tool for coaches and consultants leading Kanban initiatives and helping businesses improve their agility. 
The KMM provides a proven road-map of guidance on recommended practices to meet improvement goals. This road-map helps eliminate two common failure modes in Kanban and Agile implementations: overreaching causing an aborted start, and the false summit plateaus that fail to realize the full benefit.
At the end of the course the student will be able to:
Determine the maturity level of the organization they work with in terms of observable behaviors, management practices, and business outcome
Define the right approach to lead the organization to the next level
Determine and appropriately implement the Kanban practices that will help the organization deliver better on customer expectations and internal objectives.
Integrate the KMM with other models and methods such as Lean/TPS, CMMI, and Real-World Risk Model.
Course Topics:
Organizational maturity levels defined in terms of behavioral patterns, depth of Kanban practices, and business outcome
Kanban maturity model architecture
Evolving a fit-for-purpose organization
Cultural values and leadership styles which enable the evolution of organizational agility
Two failure modes of Kanban implementations, aborted start and false summit plateaus, and means to avoid them.
Mapping between KMM and other models and methods such as Lean/TPS, Real World Risk Model, and CMMI.
Advanced Kanban practices for managing services and projects
Included With Our Online Courses:
Access to the newest case studies and reading material including extended appendix information
An account on our learning portal where you can view course lessons, review course recordings, and gain access to bonus material
Free 3 months of unlimited access to the KMM+ platform
Optional addition of one to one mentoring with your trainer
Find an upcoming session!
Take a look at our upcoming Kanban Maturity Model courses